Epoxy Resin Woodworks
Resin Wood Products by Naturalist are designed and built to ensure your vision of the perfect interior comes true.
From beautiful epoxy resin tables to spectacularly looking credenzas, resin and wood are a match made in heaven that comes to life right here, at Naturalist! We work with local artisans that combine modern and traditional woodwork techniques to rescue these beautiful wood slabs from destruction and transform them into modern pieces of furniture.
Our epoxy resin tables, epoxy resin coffee tables, resin kitchen table pieces, epoxy resin dining tables, white resin coffee table pieces, and credenzas will take your breath away. These magnificent resin wood products will provide not only exquisite decor to your living or working space but also superb function and support for your everyday activities.
Our unique models of resin wood products are crafted using modern techniques. These techniques are coupled with traditional woodworking tools used for generations. Tradition is injected into each piece of our resin woodworks. Naturalist epoxy coffee table, resin dining table, resin kitchen table pieces, resin cube, resin round table, and other unique pieces are sure to bring an utterly uncommon atmosphere and soul to your space.
Create Breathtaking Interiors with Naturalist Resin Wood Products
Naturalist is a retail concept dedicated to creating and providing beautifully designed custom resin wood work. Our custom wood work pieces look sensational in a variety of residential and commercial interior environments. Locally manufactured products possess tremendous potential to give you just what you envisioned for your interior project.
We work with interior designers, commercial clients, companies, offices, and with all individuals who appreciate the beauty of a rustic look and the value of repurposed wood.
Uniquely crafted resin wood pieces will put your signature on the interior and make it truly genuine and absolutely unforgettable. Whether you need a sleek conference table for your office, a rustic dining table for your family home, or an unconventional, luxurious credenza for your interior design project, you will find it here, at Naturalist.
In case you have a particular resin wood product design in mind, contact us to see what we can do for you. Local artisans will put epoxy resin for wood slabs, all their skills and their craft into creating the one piece that will flawlessly reflect your vision.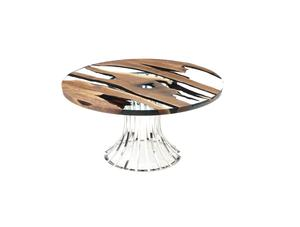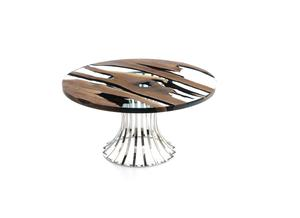 Browse Naturalist Eclectic Selection of Resin Wood Art
Each piece of resin wood we offer comes from sustainably harvested trees. Locally milled and dried, these wood slabs effortlessly capture natural beauty found only in trees and exhibit them for your aesthetic enjoyment. Even from afar, each of our epoxy resin wood products will fascinate you. However, when you take a closer look, their natural characteristics, their unique color, and grain, different in each product, will show you the true beauty of epoxy resin wood luxury pieces.
If you like the shine of gold, sprinkle some gold dust with Altin Coffee Table. Real gold flakes in this epoxy table will make a glamorous addition to your living room or your office. White epoxy resin looks stunning in this Hudson 200 White Resin Dining Table. Dark walnut wood, rustic cast iron, and white epoxy resin with caramel tones together create absolute perfection. If you have an unorthodox taste and love unexpected details in your interiors, surprise everyone with Naturalist Osso Resin Cube. Perfect for contemporary offices, vibrant coworking spaces, and modern homes, these pieces are one of a kind resin wood products. The wood stump is surrounded with the resin or epoxy to create a seamless, extraordinary piece of art.
Take a look at our Resin Wood Products. Find that special piece that will make your interiors look out of this world.
Made to Order Resin Wood Products in New York City
Do you think your room deserves a piece of furniture that is in a class by itself? Our uniquely crafted wood works epoxy table options will make you fall in love with them. However, if you have a unique idea, we encourage you to contact us today and tell us all about it. Local artisans will build and design custom resin wood work to your specifications. Responding to the needs of each and every client is what the Naturalist concept is all about.
Naturalist resin wood products are made to order. Local artisans will follow your instructions and wishes and will design and customize the products you need. Size, shape, legs, and resin to the wood ratio can be tailored to your personal vision.
We encourage the production of custom-designed furniture pieces because we know the true meaning and value of everyday objects that surround us. Living and working in a space that embodies our idea, our vision and dream, inspire great achievements, harmony, and success.
Repurposing salvaged material into unique wood works with the value of collector's items is our true passion. Each piece of resin wood you find here, at Naturalist, will be treasured for generations in your family home. If you're looking to complement your office or any other type of workspace, you're going to find true gems here. Nature's beauty, the passion of local artisans, and our desire to inspire the most magnificent and unique interiors are instilled in each epoxy resin table, epoxy coffee table, or resin dining table piece here at Naturalist.
Contact Naturalist today to get your unique, custom resin wood piece of furniture.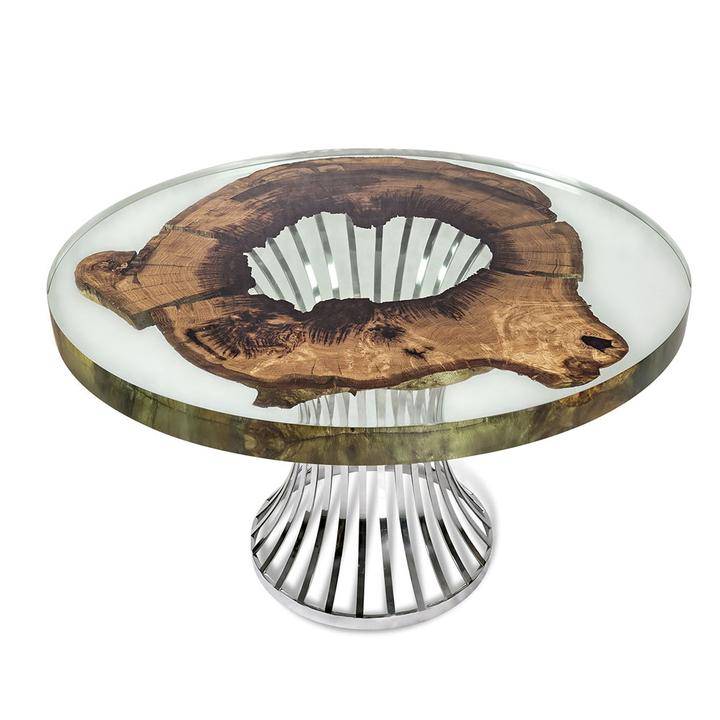 Choose Naturalist Resin Wood Products for Your Interior Project
Exquisitely crafted resin wood products that you can see here, at Naturalist, are created with high functionality and luxury look in mind. Ample precision and accuracy, clean lines, and maximized aesthetic appeal are the qualities to be found in each of our epoxy tables and credenzas. Each wood piece is finished with a sustainable and environmentally sound finish.
Renowned for the robust nature look and ethereal aesthetic, Naturalist resin wood works are very popular among many; interior designers, creative individuals, artists, and everyone who wants to make their living or working space truly unique. Interior designers find new, creative ways to fit resin wood tables into their conceptions. Homeowners love the robust look of wood. Business owners find it easy to achieve a strong effect in their offices with our custom designed resin wood pieces.
Explore our eclectic selection of resin wood products that are nothing less than true art pieces. Contact us today if you would like a customized epoxy table or another piece of furniture for your project. Our craftsmen will put all their skill into creating a one-of-a-kind piece just for you.